Catering
All meals served in our preschool are prepared in our own kitchen. Children have their meals in the dining room and often choose the dishes from the available menu. We encourage them to eat up their meals but they are not forced to do so.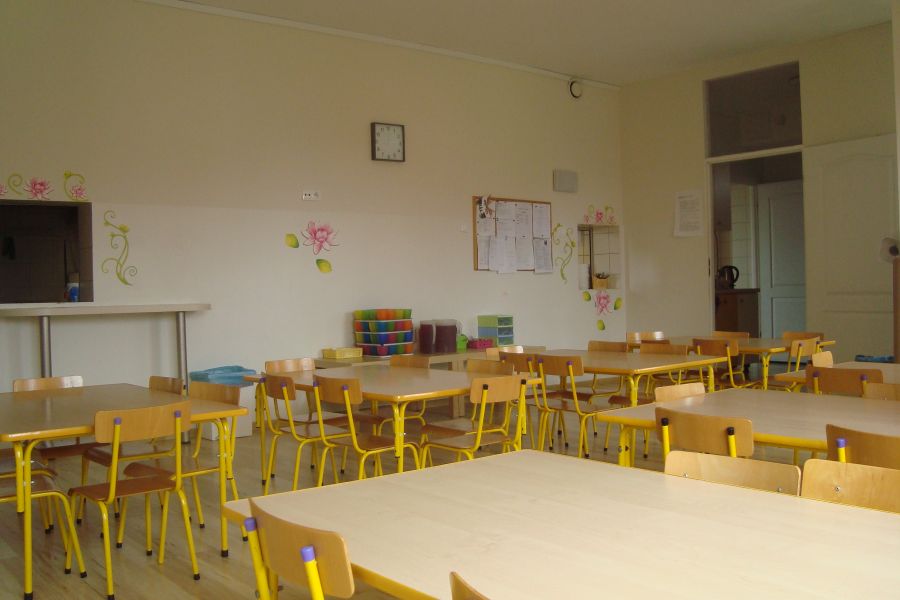 Our excellent chefs prepare delicious and healthy dishes making sure that the children's diet is varied and light. All ingredients are fresh and healthy. We do not use products with artificial preservatives. Our fish dishes contain "real" fish, and all the dumplings, pancakes, cakes are prepared from scratch by our cooks. We serve 5 meals a day:
Breakfast - 8:30 a.m.
Fruit & veg snack - about 10:00 a.m.
Two-course lunch - about 1:00 p.m.
First after-lunch snack - about 3:00 p.m.
Second after-lunch snack - 5:00 p.m.
Children drink only low-sugar juices and have unlimited access to spring water. Any dietary requirements are taken into consideration in individual cases.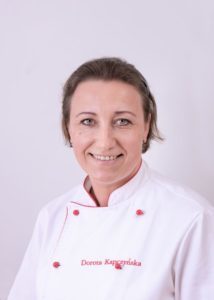 Dorota Kapczyńska - Chef in Kids Academy Preschool
We fully understand how important is providing children with proper food. Good diet ensures proper development and influences children's intellectual capabilities. That's why we rely wholly on the food cooked by our own chefs, whose dishes are always prepared from scratch. Our menu is planned in accordance with high food safety regulations. The ingredients come from reliable producers. We feel great responsibility for the quality of the food served in our school, ensure it is varied and meets the expectations of our children.
Sample menu
Monday
Breakfast:
cornflakes with milk
chicken ham, salami, cheese, mixed bread, tomato, cucumber, pepper
tea, cocoa
Plate of fruits:
apple, pear, watermelon, carrots, dried cranberries
Lunch:
pea soup with sausage and marjoram
cod fried with sesame, rice, bouquet of cooked vegetables
fruit compote
Snack I:
vanilla pudding with raspberry sauce
oatmeal biscuits
green tea
Snack II:
mixed bread, Lisiecka sausage, chicken pate, Kiri cheese
plate of vegetables
tea with lemon
Tuesday
Breakfast:
rice cereal with milk
poultry ham, Almette cheese, butter, Wroclaw roll, wholemeal bread, cucumber, lettuce, radish
cereal coffee
tea with lemon
Plate of fruits:
apple, grapes, banana, carrot
Lunch:
spinach soup with noodles
egg chops, potatoes, red cabbage salad with apple
fruit compote
Snack I:
natural yoghurt with fruits
multigrain muesli
fruit tea
Snack II:
mixed bread, cheese, cooked ham, dried sausage
plate of vegetables
raspberry tea
Wendesday
Breakfast:
porridge with milk
poultry ham, ham sausage, cream cheese, tomato, pickled cucumber, pepper
cocoa, tea
Plate of fruits:
apple, nectarine, watermelon, carrots, dried cranberries
Lunch:
vegetable soup with potatoes
penne pasta with bolognese sauce, pickled cucumber
fruit compote
Snack I:
rice bread, fluffy cream cheese, jam
tea with lemon balm
Snack II:
mixed bread, pate chicken, sirloin, Turek cheese
plate of vegetables
tea with lemon balm
Thursday
Breakfast:
rice pudding
spelled roll, rye bread, butter, cooked ham, Lisiecka sausage, cheese, cucumber, radish sprouts
cereal coffee, tea with lemon
Plate of fruits:
apple, peach, plum, carrot
Lunch:
pumpkin cream soup with ginger and puff croutons
schnitzel of turkey, rice, cabbage salad with carrots and corn
fruit compote
Snack I:
Snack II:
mixed bread, poultry ham, Krakow sausage, Kiri cheese
plate of vegetables
raspberry tea
Friday
Breakfast:
pasta with milk
mixed bread, butter, chicken pate, sirloin, tomato, lettuce, sprouts
cocoa, tea with lemon
Plate of fruits:
apple, pear, banana, carrot
Lunch:
cucumber soup with potatoes and dill
potatoes dumplings with butter and brown sugar, salad with carrots and apples
fruit compote
Snack I:
baguette, French dried sausage, Almette cheese
tea with lemon
Snack II:
mixed bread, poultry ham, Lisiecka sausage, cheese
plate of vegetables
tea